For the past two years I have been looking for a way to help other people. I brainstormed ideas of starting non-profits to help kids in the inner-city of Milwaukee or comfort people with terminal illnesses, but nothing clicked. Then the perfect opportunity was placed in my lap: one of my mom's co-workers and close family friend Pam Borgardt's husband was going through a very challenging medical journey, which had left him in the hospital for the past four months. All of that originated from a spider bite twenty years ago while he was in training for a new job in the Wisconsin Dells. Because of that bite he endured an amputation and complications with multiple major organs. The stress from work, bills, and getting to spend time with her husband weighed heavily on Pam. That is when it was proposed to hold a fundraiser for Pam and the Borgardts.
My mom presented the idea to me as a summer project and I was overjoyed. I have known Pam for years and the opportunity to help her warmed my heart. The Borgardt's motto for life is to give more than they receive, and now it was our turn to give to them. The family is active in their church and Cedarburg community and they are always looking to help others before themselves. Pam gratefully accepted our gift. Unfortunately, a few weeks later on June 11th Scott passed away. We decided to continue the fundraiser to honor Scott and Pam.
Whereas most fundraisers come together in nine or more months, my mom and I had two. In a month we pulled together a venue and I created a website. The last month was organizing raffle donations and more. This past Sunday, July 22nd was the event: the Borgardt Benefit. Our high-estimate was that 250 people would attend the event. The day before the event, we had over 330 RSVP's, and the head count at the event was over 400. Families drove from Minnesota, Illinois, and some even flew in from Florida. The amount of people that attended to celebrate Scott and support the family was overwhelming.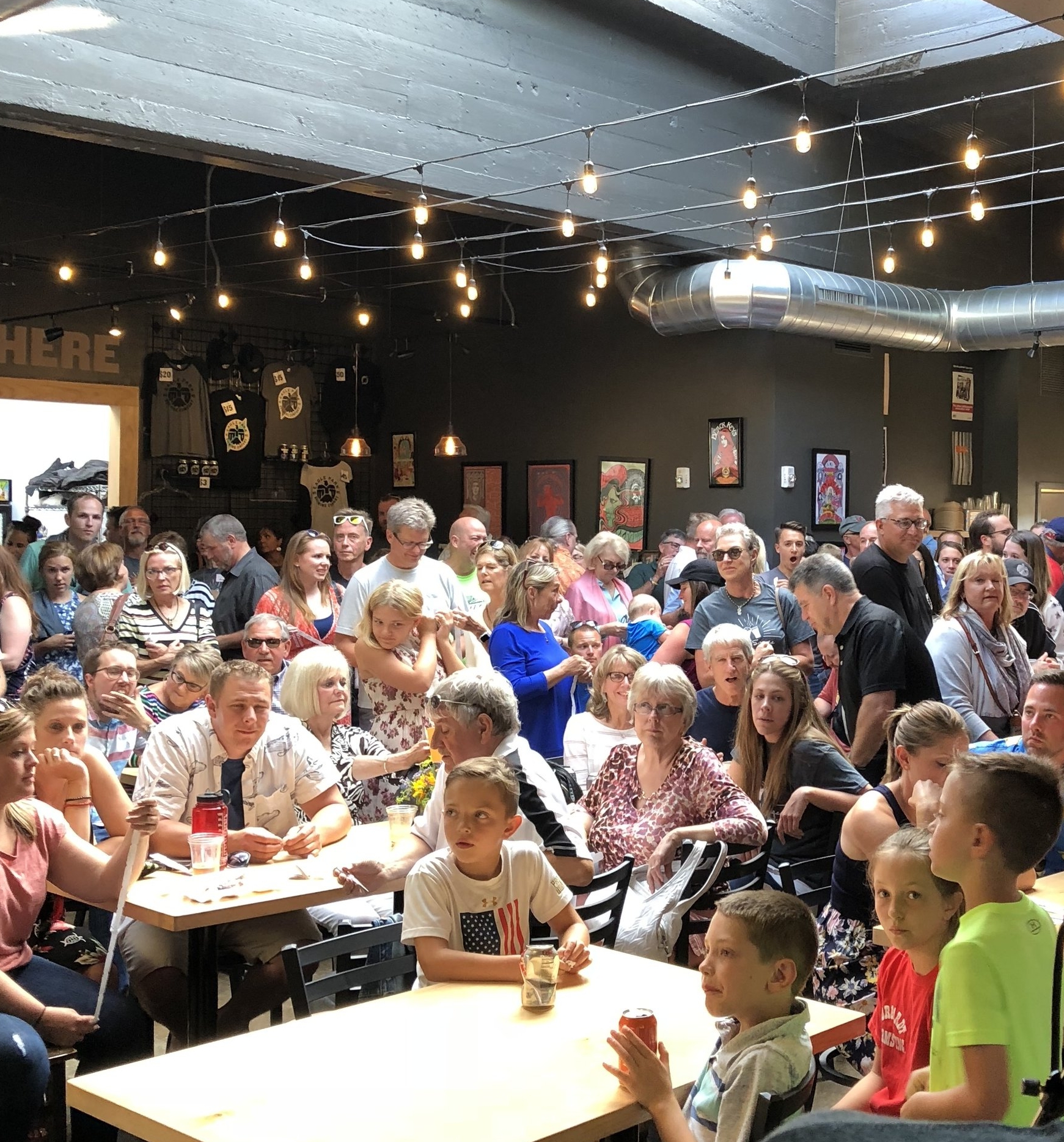 The Borgardt Benefit has been so much more than getting individuals to give us their money, it has been a reminder and lesson about how to live and appreciate life. The horrific medical journey Scott went through can happen to any of us. In any moment our lives can be dramatically changed; loved ones can be ripped away, we can get sick or injured. Nothing can be taken for granted. The past few months have also taught me how to treat other people. Pam and Scott have been receiving support from people all across the nation purely because of the way they treat people: with kindness, integrity, and an open heart. Anyone that meets them instantly wants to become their friend. And all the years of compassion and humility have demonstrated their significance in the past few months. People practically lined the streets to help them. It reminds us that simply being a good person goes a long way.
We hope you will take time to learn more about the Borgardts and consider a gift to support them.
Questions for Reflection
· What do you take for granted?
· How are you looking to help others?
Amira Elsafy, a rising senior at Dominican High School, lives in Whitefish Bay, Wisconsin. She attended the local public schools until high school where she has become active at Dominican. She has been the class Student Council President, a member of the honor roll for the past four years and loves to volunteer. Outside of the academic world, you will find Amira on the stage, recently winning an award for playing the Witch in "Big Fish". In the next year, she will share her experiences of failure and success, friendships, family her senior journey through the college process and ultimately how all of this impacts her faith.